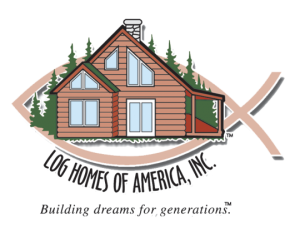 Log Homes of America, Inc. is a log home designer and manufacturer founded by Charlie Maney in the Blue Ridge Mountains of Western North Carolina. 
Charlie started this company in 1989 after 17 years in the log home industry sales and construction. He knew there was a need for dealers and consumers to be on the same page. Limiting the availability of products and profiles forces the dealer to let his prospect "go down the street" while robbing the consumer of the best available product and building from a local source, a neighbor. Charlie developed a cooperative feel company so that dealers would have more options in the products that they sell while being able to take advantage of larger buying volume organization.
Charlie is now retired yet still continues to be involved with dealer and product development as well as sell a log package or two every year. We all know he won't ever just quit the business in which he has become an "icon" of sorts. His 40+ years of experience in the log home industry has made him a popular "expert" for lectures and seminars nationwide.
Log Homes of America provides our independent representatives, homeowners, and contractors with log home materials that are superior both in appearance and structural quality. 
With our commitment to exceptional customer service, you can be assured:
Quality milling of logs, siding, and timbers
A low log moisture content consistent with minimizing shrinkage & settling
Structural members graded for strength and appearance
Quick, Accurate Quotes
On-time delivery of log packages to job sites
When clients ask us to tell them about Log Homes of America, it is not only our quality but our small, family-oriented nature that speaks volumes.